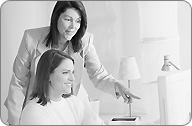 The president
Mr. Dimitri Kaltsas has had several years experience managing condominiums.
Before starting up his business, Mr. Kaltsas had an eight-year career working as a technologist for an architecture firm. He studied finance and worked in financial institutions for six years, where he held several key administrative positions within departments for investments, credit and small business management.
Administrative Assistant
Ms. Jeannine Filion has more than ten years of experience in the field of administration and secretarial work and more than fifteen years of experience as an accountant. In the course of her career, Ms. Filion was the manager of a 200-unit condominium from 1998 to 2006. In addition, she has also held many key positions in customer service. Given this experience, she goes out of her way to fulfill all of your requests and provide you with complete satisfaction.
Accountant
Mr. Mathieu Showers is an accountant by training. He has extensive experience in financial and tax issues dealing with co-ownership and income property. A cautious administrator, he will ensure that your financial plan will be managed safely and effectively. In addition, he worked as an investment advisor for a financial institution.
KALDI PROPERTY MANAGEMENT's condo management service aims foremost at quality and effectiveness.
Our primary objective is to offer our clients an effective service to maximize the return on their investment, while at the same time ensuring the diligent care of the buildings under our management.
We have a network of professional resources: lawyers, notaries, engineers, architects, carpenters, plumbers and electricians on whom we can count on in order to provide you with quotes and advice on all of the issues related to real estate maintenance and building upkeep.